1875: Proposal for a Tunnel Under the Channel
In 1875 a book "Nouveau Projet de Tunnel Transmarin pour la Traversée de la Manche" was published in Paris. The author was J. Castanier.

The proposal was for a double-track tunnel consisting of two separate tubes. The picture below shows one of the tubes. There is an elevated compartment for the guard on the last coach!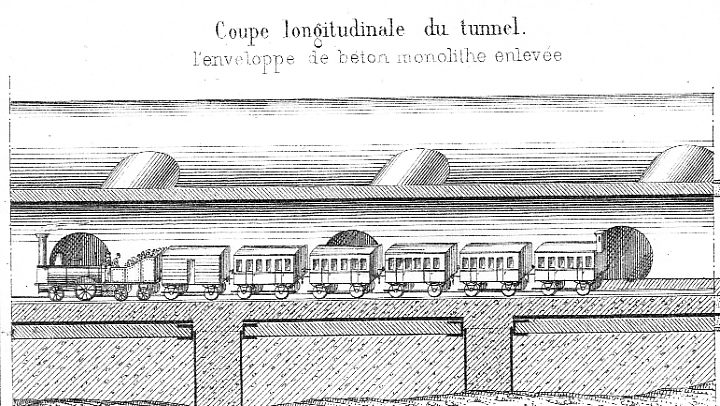 The parallell tubes where to be connected by transversal tubes at intervals. Several such connections are shown above. One reason for the connections was to increase the strenght of the unnel structure. .

Smoke emission from the engines might become a problem. Castanier proposed to this end that the tunnel should emerge briefly on an artificial island built on the banks of Varne. At these banks the depth of the channel was only five metres. The picture below shows most of the tunnel; it is remarked that the drawing is not to scale. Dover is to the left, Calais to the right.








Below is a detail picture of the artificial island with the "breathing station" (Gare de respiration). The diameter of the island was to be 150 - 200 metres. It should be provided with lighthouses and a staff building. The turntables where probably for temporary storage of defect rolling stock, and perhaps cars for provisions to the staff of the island station.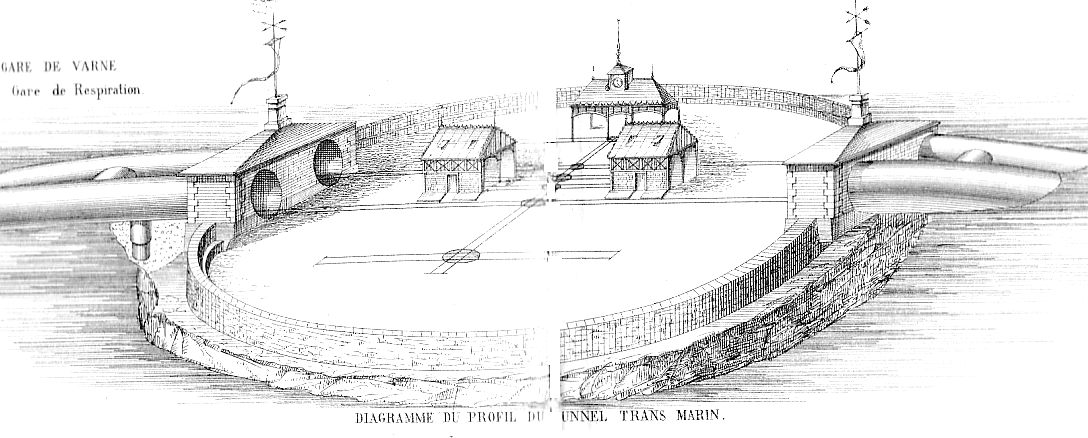 All pictures scanned from a copy of Castaniers book found in the library of Svenska Järnvägsklubbens (the Swedish Railway Club) .



1917: Signalling for an Electrified Channel Tunnel
Railway Gazette (UK) for November 23, 1917, had a description of signalling and safety measures for a tunnel between England and France. The summary below is from an abstract of this article in "Railway Signal Engineer" (USA) for February 1918 [pp 59-60]:
General Data
Total length of the double-track tunnel was to be 30 miles.
Maximum speed 40 miles per hour for passenger trains, 25 mph for freight
The line was to be electrified
No conveyance of dangerous goods to be allowed
All freight wagons to have continous brakes and oil axle-boxes
Block Working and Safety Arrangements in Tunnel
Only one train in each direction to be allowed to use the tunnel simultaneously.
Trainstops to apply brakes if signal passed at danger
Signal boxes at the tunnel entrances to be equipped with "electrically-operated diagram frames" to indicate exakt position of trains (tunnel to have continous track-circuiting?)
Semaphores at tunnel entrances to be electrically locked in danger position if track through tunnel + overlap occupied.
An illuminated distance marker and a telephone to be provided at each quarter-mile
Tell-tale wires through tunnel to set off alarm bells in signal boxes if cut
 

Last updated November 18, 2006