Derailment due to failure of indication locking
On the the first of november 1925 train No 11 derailed while it was about to enter track V. The cause of the derailment was that points 22B where moved while the 10th car was passing the points. Detective Constable Tage Olofsson was on the platform to control the passports of passengers in the through coach for Copenhagen. Olofsson noted that the last car was derailed and overturned, and a person fell off. Then the 9th car from the engine also overturned.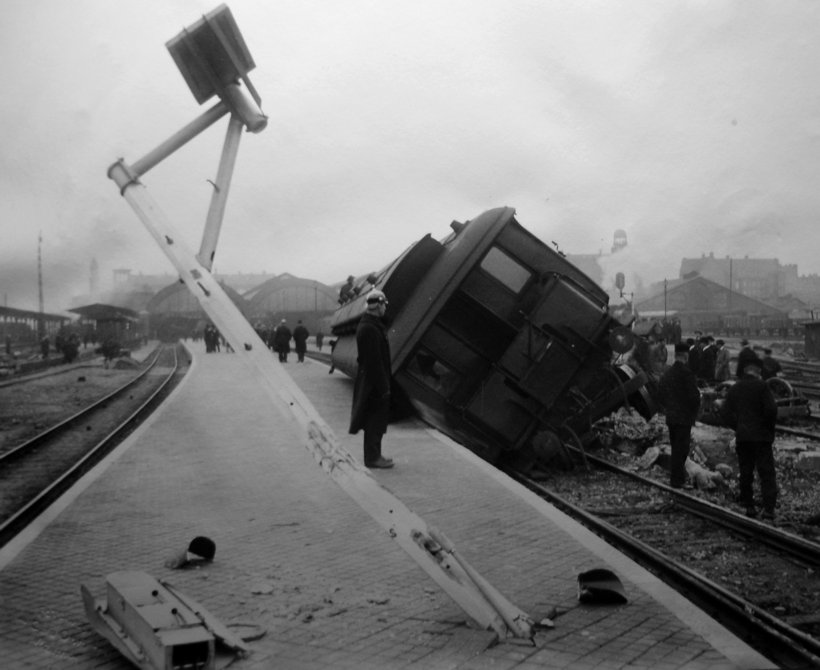 One of the new signals lies on the ground. Picture from the swedish railway museum

It was a guard who fell out of the train. He was killed. Two passengers were injured. The accident was thoroughly investigated - after all the new interlocking was supposed to make it impossible to throw a switch while a vehicle was on the switch. Interviews where held with the staff on duty at the time of the accident, with chief signal engineer Ture Hård and with Mr Proud from Westinghouse. Mr Proud also had to answer written questions. American terms like "interlocking machine" and "tower" where used, so perhaps an expert from the US had been consulted?
The investigation showed that the accident was the result of the combination of a powerful signalman, bad design of the frame and faulty assembly of the frame sections. The switch lever in question was at the border between two frame sections. The signalmen had until recently worked the mechanical frames, and were probably used to levers requiring a heavy pull.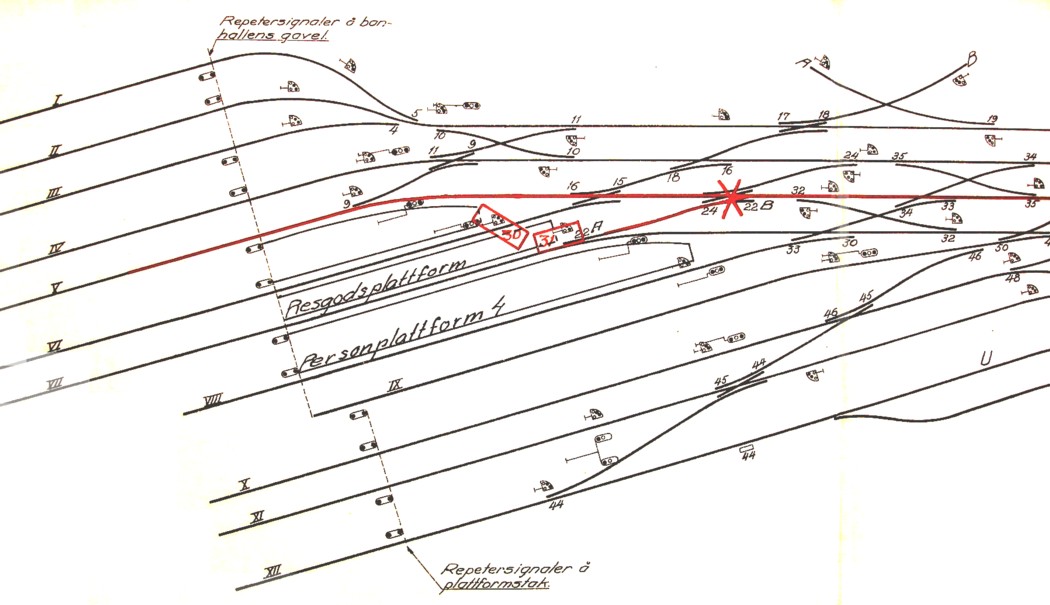 The red X marks the site of the derailment. The derailed coaches are shewn by red rectangles
---

Written questions to Mr. Proud in italics:

"How long time has bushing next to the axle according to your drawing been used for this mechanical detail of the Westinghouse interlocking machine?

As long as I have been engaged in the firm, that means over 20 years.

Can mr. Proud say approximately how many of such details have been manufactured by this firm hitherto?

There have been in use since 1902 and my firm have supplied about 9000 of them. There are also in use many thousand manufactured by an American C:y.

Have you furnished machines with this detail of similar construction to railway companies all ovor the world?

Yes. All over the world including Argentina, Australia, Great Britain, Egypt, France, Germany, Italy, New Zeeland and others countries. I would especially call attention to the use since 1903 on the Underground Railway of London, with the most frequent traffic of the world, and to installations on the Berlin Hochbahn since 1913. In no case have wo hoard of a quadrant twisting on the lever.

Do you know of any case in wich the quadrant was twisted as accured with lever 22 in Malmö?

I have never heard of any other case.

Do the railways usually inspect their machines in the factory?

All railways have the right to do so, but not all of them make use of this right.

Did you find the inspection of the Malmö machine by the Swedish railway officers in the factory thorough enough?

Yes, very thorough.

Is it reasonably to expect the railways inspection of an interlocking machine to be so closely made, that the locking quadrants must be desmantled for axamination?

No.

Has mr. Proud been present at the examination of an interlocking machine in the tower before putting the plant into service?

Yes.

Is it usual at this occasion to disjoin the machine in order to examine for example a detail like the quadrants?

Decidedly not.

Is such a disjoining of these details advisable taking into consideration the necessary readjustments afterwards?

I should not recommend it.

Which is the function of the screw with the corresponding hole in the bushing?

I cannot definatly answer this question before consulting the designer, but my opinion is that, in the first place, the middle screw was provided as a guide pin or screw to ensure that if the apparatus was dismantled, it could be reassembled in the same position as before, I am sure that if the designer had in mind the use of this screw for holding purpose the size would have been larger.

Are we to understand that the firm will consider altering this detail of the interlocking machine on account of what has happened in Malmö?

Although this is the first case my firm has heard of any trouble which might possibly bo attributed to this method of fixing. I am sure that they will be anxious to consider whether any improved method of fixing can be employed, even though they take into account the many millions of safe operations, which have taken place whith the present design.

Malmö den 7 november 1925
H. M.Proud

---



Source: "Protokoll angående urspårningen å Malmö bangård den 1 november 1925", Dbrs FI:3, Riksarkivet





| | |
| --- | --- |
| | Pictures from the swedish railway museum |
Malmö Powerframe
 

Last updated on 31 March 2007